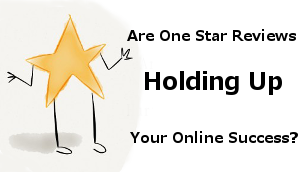 Reputation marketing for local businesses, commonly referred to as reputation management, has become just as important if not more important than any efforts to get your business website ranked in local search. How can reputation marketing be more important than ranking online you say? And what do you mean, online reviews can be the death of a business?
Think about this scenario. You've followed all the best online marketing principles like a Little Genius. You've built a great new WordPress website that is totally optimized with all the special sauce that Google loves. You've applied all the latest SEO techniques to your site, you've tackled YouTube video marketing and you're doing all the social media marketing on sites like Facebook, Twitter, LinkedIn and Pinterest.
You've literally done everything right to attract an online audience and create "buzz" about your business. Now with a consistent online marketing strategy in place, you gradually increase your internet ranking until you are on page one for your primary service or product. You're starting to get traffic and get noticed, but for some reason you're phone is not ringing.
What's the problem you begin to wonder? Then you decide to "Google search" your business name and city location. As expected, you see your website pop up at the top, but underneath it are all these terrible reviews about your business that you didn't even know existed. You see a Google star ranking of 2.5 stars out of a possible 5 or a Yelp rating of 1 star, and it suddenly hits you. Nobody wants to do business with a 2-star business; they want to do business with a 5-star business and your bad online reputation is killing your business.
Regardless of how well you rank, you must have reputation marketing in place FIRST, or you will never convert all that traffic to sales. In fact, all that online attention your SEO efforts have garnered may have completely backfired as it called even more attention to your reputation problem.
No Reputation can be just as much trouble as a Bad Reputation
Another reputation management scenario we see far too often is similar to the above example with a slight difference. Picture the business owner who in spite of ranking well in Google and in spite of operating a great business and offering great customer service, is still not getting any phone calls. This time it's not due to a bad reputation, but actually no reputation at all.
Here's an example that offers a way to test your own business while explaining this reputation dilemma a little further. To test your own business, just Google "business name" + "city" or "business name" + "city" + "reviews" and see what comes up. In our example we'll take the fictional business "Joe's Plumbing Service" located in Wilmington, NC. You would Google the term "Joe's Plumbing Service Reviews Wilmington" and the website likely would pop up number one on the page as expected. Then down below it would be reviews. Let's say in our fictional scenario there is one lone review on Citysearch and no Google star ranking at all. The no star ranking is due to not having enough reviews to create a ranking.
Would you call Joe's Plumbing at that point? Probably not. There is simply not enough social proof to decide that Joe's is the business you want to call. In fact, research shows it takes (10) 5-Star reviews to convince a prospect to trust your business. Without these reviews, your business will not be trusted in the eyes of the online community, and you will not be perceived as a market leader. A business that ranks farther down in the search results might be getting all the calls because they understood the importance of reputation marketing and took steps to create a 5-star  online reputation.
We make decisions like this all the time and hardly realize it. Think about it when choosing a restaurant when you're out of town. You're driving down the road hungry, and you're coming up on a great looking restaurant, but there's a problem. There is only one car in the parking lot. Do you pull in? No way. You keep driving until you find the place with 20 cars in the lot. You figure that's the place to be because all those other people have "voted" for it with their presence. It's the same with reputation marketing for online reviews … reviews are the social proof that you're THE place to be. Reviews are literally online votes for your business, just like cars in the parking lot for a restaurant.
Reputation Marketing – How Reviews can be the Death of a Business
As we said at the top, reviews can  literally be the death of a business online and most businesses are defenseless to deal with it. SEO, Social Media, Pay-Per-Click Advertising, Local Marketing – none of it works anymore if you have bad reviews online. Potential customers will skip right over your business and go to the one with either the most reviews or the best reviews. Even if you rank #1 in your category, it will not help if other businesses on the page are more attractive due to a better review rating. In fact, a Nielson study suggests people will buy 70% of the time from consumer opinion online.  In other words 70% of the time buyers trust reviews as much as personal recommendations from their friends. And by the way, this is more than they trust news sources like CNN or their local newspaper.
So what's the Reputation Marketing Solution you ask?
It's simple … hire a Little Genius!
Although we're based in Wilmington, we do more than just reputation management in Wilmington, NC. We can manage small business reputations anywhere in the U.S.
Essentially, we see our job at Little Genius Reputation Marketing as first creating and then promoting a 5-Star Online Reputation for your business in order to convert your traffic into actual buying customers. Then we want to focus on marketing your great products and services to increase your traffic. So basically, once the reputation is solidly in place, then it's time to dive into the Website, SEO and Social Media marketing for maximum results.
At Little Genius we have a comprehensive proprietary database system that not only collects reviews, but allows us to promote 5-star reviews while leaving bad reviews dormant. Our system also notifies us with alerts so you can respond to bad reviews, and we're even able to broadcast your great reviews on your Website and Social Media sites. The icing on the cake is video reviews, and yes we take care of those too.
So the question is … do you know your reputation online and do you have a system in place for harvesting and managing reviews? If you're tired of leaving your reputation to chance with no way to defend yourself online, contact us at Little Genius Marketing.  We're the experts in reputation marketing in Wilmington NC, but our marketing expertise extends beyond the Wilmington area to both the Carolinas and beyond. We are ready to start building your 5-Star Reputation Marketing campaign today, and don't forget to ask us how you can try our reputation monitoring system FREE FOR 30 DAYS.